Look what the local promotor in Karlskoga posted on the door to his venue :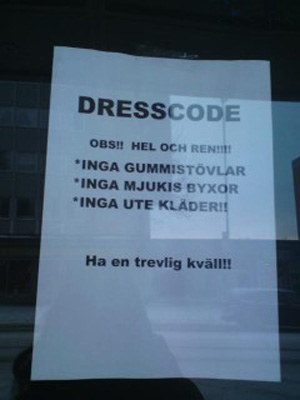 DRESSCODE:
Attention!! Be clean!!!!
* No wellingtons
* No sweatpants
* No winter coats
Have a nice evening!
—
At first, I thought it would be fun to announce on our website that everybody must turn up in wellingtongs, sweatpants and winter coats.
But then I reaized that the promotor probably has his reasons for putting up this sign, and it made me think for a second.
I don't go out much, so I'm really not the expert here, but at least in my city, it's very uncommon that people go nightclubbing wearing wellingtons and sweatpants. Clearly it's alot more common in Karlskoga, and apparently our promotor is trying to change that. I admire his determination!
But I absolutely think Karlskoga should be proud over this phenomen! Flush the fashion – Keep your wellingtons on!
Maybe I will bring a pair myself…
//LONDON