Hello!
I will make several shorter blog posts today, in an attempt to add some live-blog feeling to this thing. We'll see if it works!
Woke up at Simon's parents house at 8, just to go back to sleep once the buss starts rolling again. Drank some excellent home-made beer last night, who would know that Simon's dad is a real talent when it comes to beer-brewing!
We arrived to the venue at 13.00. Johan immediately started working his ass off, while I'm taking pictures. And having a sandwich
.
Here is where it all is gonna happen tonight! Doesn't look much for the world right now but just wait!
The master backstage area at KB, only for the serious VIP's!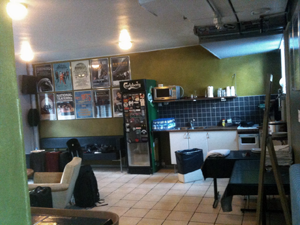 You might wonder where the other guyz are, well they are probably working with something.
I should go & put my make up on. See ya later!
//LONDON